Ill India activist Anna Hazare 'scraps poll campaign'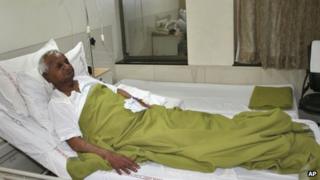 Leading Indian anti-corruption activist Anna Hazare will not campaign in upcoming state elections because of poor health, an aide has said.
Kiran Bedi said Mr Hazare, 74, needed "complete rest" and "won't be travelling or campaigning".
Mr Hazare fell ill after starting a hunger strike in Mumbai on 28 December and is in hospital in Pune.
He was to oppose the ruling Congress party, which has drafted an anti-corruption bill he says is "useless".
The Lokpal bill, which envisages setting up an independent ombudsman with the power to prosecute politicians and civil servants, was passed by parliament's lower house last week but stalled in the upper house.
The bill will now have to be taken up again in the next session of parliament.
The main opposition Bharatiya Janata Party (BJP) met President Pratibha Patil on Thursday to ask her to re-convene parliament for a new vote.
'Total care'
Kiran Bedi was speaking after meeting Mr Hazare at the Sancheti Hospital in Pune, where he was admitted on 31 December with complications arising from chest congestion.
She said: "Anna needs complete rest. Doctors have advised him not to travel. My opinion is also that Anna should be taking rest. So he won't be travelling or campaigning.
"Anna is not going to campaign in the states. Anna is not going to travel, which we have urged him not to. Doctors are not allowing any more fasts, any more exposure through travel at the moment."
Ms Bedi said Mr Hazare would be particularly vulnerable to the changing temperatures in the campaign states.
The states of Uttar Pradesh, Uttarakhand, Punjab, Goa and Manipur are all going to the polls between 28 January and 3 March.
Mr Hazare and his campaigners, known as Team Anna, had pledged to oppose those parties which were not backing a strong Lokpal bill, with much of their ire directed at the Congress party.
Ms Bedi said the team would meet on Saturday to discuss its strategy.
Speaking about Mr Hazare's condition, she said: "He needs total care at the moment which can only be given to him at the hospital for a few more weeks to prevent any relapse."
Mr Hazare says the current Lokpal bill is "useless" and that tougher measures are required to reduce the level of corruption.
His 12-day anti-corruption hunger strike in August in Delhi became the focus of a national campaign and put pressure on the government to act on the issue.
He started his three-day fast in Mumbai last week but called it off on the second day after his health deteriorated. Instead, he threatened to launch a campaign of civil disobedience that would fill the country's jails.
The Lokpal bill was passed by the lower house of parliament after a debate of nearly 10 hours.
But the upper house was adjourned in chaos after the debate stretched to midnight and the bill was not put to a vote.
Opposition parties bitterly criticised the government for its failure to hold a vote, but the government insisted the BJP was responsible for the bill not being passed.
On Thursday, BJP leaders met President Patil to press for a re-convened upper house, saying the prevention of a vote there was a "subversion" of parliament.