India's BJP bid for anti-graft bill parliament session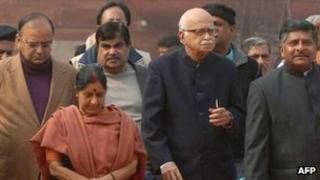 India's main opposition has petitioned the president urging a special session of parliament to put the controversial anti-corruption Lokpal bill to a vote.
The bill was passed in the lower house in December, but was not put to a vote in the upper house amid chaotic scenes.
The Bharatiya Janata Party blamed the government for "orchestrating" chaos.
On Thursday party leaders handed a memorandum to President Pratibha Patil urging her to ask the government to convene a special session.
The Lokpal bill gives an independent ombudsman powers to prosecute politicians and civil servants. It needs to be passed in the upper house in order to become law.
The upper house debate on the bill on 23 December was adjourned amid chaos after a debate stretching to midnight.
The BJP said the government had "orchestrated" the chaos as it was not sure it could pass the bill.
The government insists that the BJP is responsible for the failure to pass the bill. It said that with nearly 200 amendments to the bill demanded by the opposition, the sitting ran on too long as the winter session of parliament ended at midnight.
'Useless' bill
The BJP delegation was led by senior leader LK Advani and comprised party president Nitin Gadkari and opposition leaders from both houses in parliament, Arun Jaitley and Sushma Swaraj.
"We have sought the president's intervention and expressed our grievance and dissatisfaction on the events that took place in the Rajya Sabha [upper house] on the night of 23 December," Mr Advani told reporters after meeting President Patil.
"We have suggested to the president that she should take the initiative and give a concrete suggestion for reconvening the parliament session for the voting for creation of a strong Lokpal which was postponed earlier," Mr Jaitley said.
The government has also been under pressure from anti-corruption campaigners.
Leading anti-corruption activist Anna Hazare has called the bill "useless". Mr Hazare and his supporters say that tougher measures are required if it is to prove effective at reducing the level of corruption.
Mr Hazare's main complaint is that the bill proposes to keep India's top investigation agency, the CBI, out of the purview of the ombudsman.
A recent survey said corruption in India had cost billions of dollars and threatened to derail growth.