India train collision kills five in Jharkhand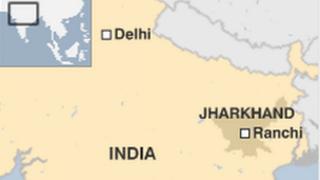 At least five people were killed when a passenger train collided with a goods train in the eastern Indian state of Jharkhand, police said.
A coach of the Delhi-bound Brahmaputra Mail overturned in the collision and several people were trapped in the wreckage, they said.
Nine people are known to have been hurt in the crash near Sahibganj district.
Rescue operations are going on and the injured have been taken to the hospital, police said.
Railways officials said the cause of the accident was not known. They said an inquiry would be held into the crash.
Train accidents in India have killed some 1,220 people over the last five years, railway officials revealed last month.
The immense state-owned railway network connects every corner of the country, operating 9,000 passenger trains a day, carrying some 18 million people.
India has set up a special $3.6bn (£2.4bn) railway safety fund to make travelling safer for the more than six billion passengers who use the transport network every year.