Rajasthan offers help to ailing India-born Mehdi Hassan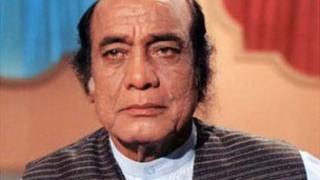 The government in India's Rajasthan state has offered to help to ailing Pakistani singer Mehdi Hassan if he wants treatment in India.
Chief minister Ashok Gehlot spoke to the singer's son, Arif Hassan, and offered help with medical expenses.
Hassan, 84, was put on a ventilator at a private clinic in Karachi after he collapsed with respiratory problems.
Born in Rajasthan's Luna village, the singer is immensely popular on both sides of the border.
Reports from Luna say the villagers are praying for his recovery.
Officials in Rajasthan said Mr Gehlot had ordered Chief Secretary S Ahmad to keep in touch with Hassan's family and provide any help they may require.
The singer last visited Rajasthan in 2000 when the state government invited him for a convention of non-resident Rajasthanis.
During the visit, he offered prayers at the graveyard of his late grandfather, Imamuddin, in Luna.
Villagers say Hassan visited the sleepy village three times after he migrated to Pakistan as a child.
He also helped in the construction of two rooms at the government school in the village.
Hassan has been ill for the last few years with a serious lung condition. He was treated in India in 2005.
Mehdi Hassan's music is highly regarded in both India and Pakistan. Legendary Indian singer Lata Mangeshkar once likened his songs to the "voice of god".
He started his career more than 50 years ago but had to wait for several years before getting his first big break.
Once in the limelight he was crowned by the subcontinent's music elite as the "king of ghazal". Ghazal is a genre of music specific to South Asia and parts of the Middle East.