Tendulkar back in one-day squad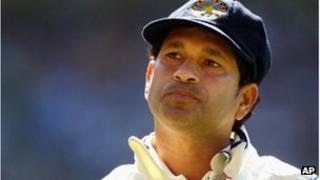 Indian batting star Sachin Tendulkar will figure in an upcoming tri-series in Australia after he was named in a limited overs team for the first time since last year's World Cup.
The tournament, which will also feature Sri Lanka, will begin next month.
Tendulkar, who is on the brink of scoring 100 international centuries, is part of a 17-member squad.
India hopes to bounce back in the tri-series after three successive defeats in the Test series against Australia.
India will play two Twenty20 games in Australia followed by the one day tri-series, which will be played from 5 February to 8 March.
The 38-year-old Tendulkar, who holds the record for most runs in Tests (15,432) and one-day games (18,111), scored his last two centuries during the World Cup last year but has failed to score another in the subsequent nine months.
Fast bowler Zaheer Khan will also return to the one-day squad for the first time since the World Cup after he was injured before returning to the test side for the Australia series.
The team: Sachin Tendulkar, Virender Sehwag, Gautam Gambhir, Virat Kohli, Rohit Sharma, Suresh Raina, Manoj Tiwary, Mahendra Singh Dhoni (captain), Ravindra Jadeja, Ravichandran Ashwin, Parthiv Patel, Irfan Pathan, Praveen Kumar, Vinay Kumar, Umesh Yadav, Rahul Sharma, Zaheer Khan.