First India woman photo-journalist Homai Vyarawala dies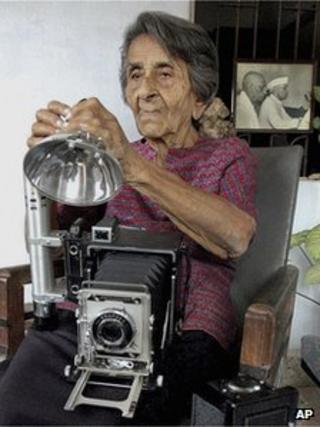 India's first woman photo-journalist Homai Vyarawala has died, aged 98, in the western Indian city of Baroda in Gujarat state.
Ms Vyarawala fell from her bed last week and was admitted to a nursing home where she died on Sunday.
She was famous for her photographs of a series of key events before India's independence.
Ms Vyarawala retired after a four-decade-long career soon after her husband's death in 1970.
Born in Gujarat, Ms Vyarawala was educated in the western city of Mumbai and then left to work in Delhi in the early 1940s.
She photographed such events as the departure of Lord Mountbatten from India, and the funerals of Mahatma Gandhi and former prime ministers Jawaharlal Nehru and Lal Bahadur Shastri.
She also covered the visits of Queen Elizabeth II and former US President Dwight Eisenhower to India.
Ms Vyarawala told her interviewers that her favourite subject was Jawaharlal Nehru, India's first prime minister.
"Nehru used to get surprised whenever he saw me at his functions and used to remark 'You too have come here?'," she told the Press Trust Of India news agency in an interview.
Ms Vyarawala's funeral will be held on Monday.