India Kashmir imposes cooking gas ration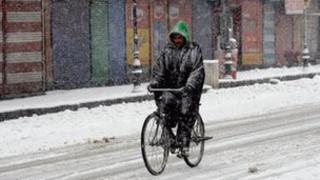 Authorities in Indian-administered Kashmir have imposed a strict ration on cooking gas as the state is cut off by heavy snowfall.
Only five kilos of a 15kg cylinder can now be refilled by customers.
The government says the move is temporary as the state is set to import gas from the state of Punjab via a new 750km (466 mile) pipeline.
Officials say the project will end the problem of winter fuel shortages.
According to official figures, there has been a 50% shortfall in cooking gas supplies since 1 January in Kashmir.
"We have stocks of grains and other things but gas is a problem. The pipeline project has been cleared...and we shall execute it in 2012," Kashmir's Minister for Food Supplies, Qamar Ali Akhoon, told the BBC.
He added that the ration was an emergency move and said the situation would ease once about 130 truckloads of gas cylinders, currently stuck on the Jammu-Srinagar highway arrive.
Heavy snowfall during the winter months forces the closure of the rugged and avalanche prone highway, the state's only road link with India.
Discontent with Kashmir's governing coalition is also mounting, with critics alleging that the Kashmir valley is being discriminated against.
A recent four-day power breakdown sparked protests during which a youth was killed.