India festival celebrates 'singing saint' Thyagaraja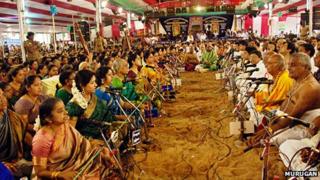 For 165 years, a unique music festival has been held every year in southern India. On a sacred date in January, the banks of the river Cauvery come alive when classical musicians come to celebrate the 19th-century saint and composer, Thyagaraja. Vasanthi Hariprakash reports
Its 6am and still dark in Thiruvaiyaru town, 308km (191 miles) away from the city of Chennai, but the crowds are building up.
Men and women in traditional clothes line up in separate queues to be let into a barricaded space covered by a canopy on the riverbank.
Once inside, they sit down on the ground and there is a hushed silence as famous musicians, men and women, sit down facing each other.
At exactly 9am, over 1,000 people sitting cross-legged on the sands and thousands of others still waiting outside, break into song.
'No time to prepare'
The "Thyagaraja aradhana" is now a five-day festival of south Indian classical Carnatic music. Newer singers are each given 10-minute morning slots and the more reputed ones get 20 minutes each as the evening progresses.
One recital follows another, non-stop from 9am to 9pm. There is no fancy stage setting and no tickets.
"From the word go, you have to hit a high. There is simply no time to prepare or to set the mood. There is no time to do a sound check either, but somehow it works," says Suma Sudhindra, noted player of the Indian string instrument Veena.
"And you need to have a Plan B," she adds. "Someone who performed just before you might have sung the composition that you had prepared yourself elaborately for."
To the musicians and millions of Indian music lovers, Thyagaraja remains the genius who has had the greatest impact on the Carnatic style of music.
The tradition of commemorating the day of his passing with a music festival started towards the end of the 19th century, says music critic Manna Srinivasan.
Until then, it had been a religious ceremony performed by his descendants.
There was a time though, when women were not allowed to sing at the festival.
"The credit to open the aradhana to women must go entirely to the feisty Bangalore Nagarathnamma," says Poornima R, senior editor in a regional newspaper in Bangalore.
Nagarathnamma was a beautiful, talented and affluent Devadasi - women who were considered dedicated to the gods.
After becoming an ardent devotee of Thyagaraja she came to Thiruvaiyaru where she settled down in 1920 and built a shrine to him.
'Sing for free'
"In which other festival in the world do you have topnotch musicians come on their own, pay their way through, make their own stay arrangements and sing for free?" asks KS Madhusudhan, a businessman who has been a festival regular for the past two decades.
"We only feed them," says Chellam Iyer breaking into a toothless grin. Iyer, now 92, was the secretary of the committee in-charge of the festival for 25 years from 1957.
He describes how special chefs would be brought in those days to cook a feast of sakkarai pongal - rice cooked in jaggery, milk and clarified butter and seasoned with cashew nuts and raisins - and other vegetarian delicacies for the musicians.
That rich menu seems a thing of the past, but hot food is nevertheless served free to thousands of visitors who throng Thiruvaiyaru for the five-day festival.
Madhusudhan, who says he wanted to sponsor free meals for the visitors, was told there was no "slot" available for such philanthropy for the next 10 years.
It seems ironic that a saint, who simply did not care for riches and even refused an invitation by the then king to sing at his palace, should have such rich and famous devotees who are willing to spend their wealth and time for his music memoriam every year.
Many music lovers see this as a chance to see their celebrity musicians bond right before their eyes.
World-renowned saxophonist Kadri Gopalnath describes his annual visit as a "family reunion" with fellow artistes.
Singer Nithyashree Mahadevan says this is a sacred pilgrimage for her.
KJ Yesudas, whose movie music is as much a hit as his devotional music albums, famously says this is where he "recharges his soul-batteries".
Sudha Raghunathan, one of the most famous names on the Indian vocal music scene, has sung here for 25 years every year, except once when she was pregnant.
"I have performed at various world festivals, but I come here for the spiritual vibes, how do I describe them?
"When 3,000-4,000 people sing the same intricate composition in chorus, no one tries to show any musical prowess or individuality. It's just surrender to that ultimate bliss of music."