Fifteen die in freak south India cold snap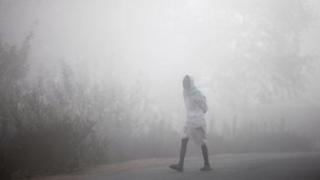 At least 15 people have died in an unprecedented cold wave sweeping through south India.
The deaths were reported from Andhra Pradesh state, where temperatures dipped to 1C in the coastal districts and in parts of the Telangana region, meteorological officials said.
Some parts of neighbouring Karnataka state also saw temperatures drop to their lowest in over 100 years.
Much of north India has also been hit by extreme cold weather conditions.
The tribal region of Lambasingi in Andhra Pradesh is in the throes of a cold snap with temperatures dipping to 1C on Tuesday. Adilabad shivered as the mercury fell to 4C, down from 15C last week.
Madikeri in neighbouring Karnataka recorded its coldest weather in 132 years with temperatures plummeting to 4.8C.
The popular hill station of Mysore experienced its coldest day in 120 years with temperatures dipping to 7.7C. The state capital Bangalore recorded a low of 12C.
"The severe cold wave from the north and north-east combined with clear skies are to blame for the cold conditions [in the south]", B Puttanna of the Bangalore Meteorological office told The Times of India newspaper.
Southern India rarely experiences cold weather and with homes not centrally heated like buildings in the West, conditions can be miserable.
Northern India is also experiencing severe cold weather.
Heavy snowfall in Indian-administered Kashmir has led to power cuts and rationing of gas. And fog and cold weather have caused flight disruptions in the Indian capital, Delhi,