Costa Concordia: First batch of rescued Indians return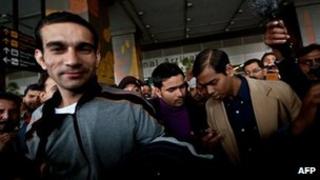 Some of the Indian crew members rescued from the wrecked Italian cruise ship, Costa Concordia, have returned to the capital, Delhi.
Fifteen arrived at Delhi airport on Thursday and described the confusion on board when the cruise ran aground.
The vessel had some 4,200 people on board. At least 11 have died and more than 20 are still missing.
There was one Indian passenger and 202 Indian crew members on board. One of the crew members is among the missing.
Waiter Mukesh Kumar told reporters on arrival in Delhi that the ship's alarm went off only after the vessel "started tilting and water started seeping'' the Associated Press news agency reports.
Officials say all of the rescued Indians are expected to return within a few days.
The government has set up help desks at the airports in Delhi, Mumbai, Calcutta, Chennai and Hyderabad to assist those coming back.
Officials said all the Indian crew members have received payment from their employers.
The Indian authorities have also paid 100 euros ($130) to each of them.
The Costa Concordia is lying on its side just metres off the Tuscan island of Giglio and divers are trying to find more survivors.