Five killed in Himachal Pradesh avalanche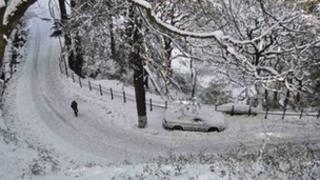 Five people have died after an avalanche buried them in India's northern state of Himachal Pradesh, officials said.
Three people were also injured when the avalanche hit a village of nomads in a remote area of Chamba district.
Authorities have alerted people living in the area and urged them not to to go out of their homes.
Himachal Pradesh has received its heaviest snowfall in six years this month. Many areas are still under snow.
Last week 15 people were killed after a passenger bus skidded off an icy road in the state.
The bus was on its way from Chopal to Dharchana town when it rolled down a hill side in Shimla district.
Much of north India has been hit by extreme cold weather conditions.
Heavy snowfall in Indian-administered Kashmir has led to power cuts and rationing of gas.
Fog and cold weather have caused flight and train disruptions in the Indian capital, Delhi.
At least nine flights were cancelled and 65 were delayed due to fog on Friday morning, officials said.