India babies: Alarm after spate of deaths at hospital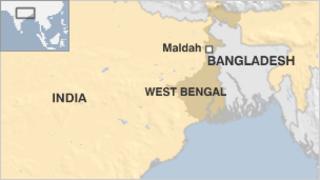 At least 19 babies have died in the past three days in a state-run hospital in India's West Bengal state.
Angry parents have accused the Maldah Medical College Hospital authorities of negligence.
A team of experts which visited the hospital to find out the cause of the deaths was surrounded by protesters.
State health officials said most of the dead infants were underweight and malnourished and several of them were critically ill.
In November, more than 25 children died in the same hospital over a six-day periods.
There were 12 similar "crib deaths" in October and 25 deaths in June at another hospital in the state, Calcutta's BC Roy Hospital.
In Maldah, officials said at least three of the children had died since Thursday.
"One baby died in the sick neonatal care unit and the rest in the neonatal care unit," Debasis Bhattacharya, principal of Malda Medical College, said.
Health officials say on an average four to five children die every day in government hospitals in West Bengal.
They say the mortality rate is so high because many are late admissions brought from distant areas. A senior health official said most infants are referred to bigger hospitals without being given proper medical attention at district and local hospitals.
"The government wants to set up sick newborn care units in district and local hospitals. But it is not possible to build such infrastructure overnight," senior health official Susanta Banerjee told reporters in Calcutta, the state capital.
Chief Minister Mamata Banerjee, who heads the health ministry, appointed a junior health minister a couple of days ago to oversee this initiative.
She also accused the media of blowing "crib deaths" out of proportion.
Addressing a party rally, Ms Banerjee said: "Infant mortality needs to be looked at very seriously. We are trying to improve the health infrastructure which was left in a shambles by the former Communist government."