India: Narendra Modi fasts at Godhra for 'peace'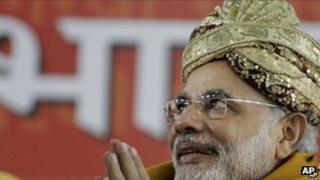 The controversial Chief Minister of India's Gujarat state, Narendra Modi, is sitting on a day-long fast in the town of Godhra where a train fire killed 60 Hindu pilgrims in 2002.
More than 1,000 Muslims died in retaliatory riots after the fire.
Mr Modi has been accused by rights groups of supporting the rioters. He denies the allegations but has never apologised for the carnage.
Mr Modi says his fast is to "promote peace, harmony and brotherhood".
The fast - called "Sadbhavna" [goodwill] mission - comes just a month before the 10th anniversary of the train fire and the riots.
The state's opposition Congress party and activists say the move is politically motivated.
They say he is trying to appease the voters ahead of the state assembly elections which are due later this year.
Mr Modi, however, insists that his fast is to promote goodwill and communal harmony in the state.
Meanwhile, prominent activist Shabnam Hashmi and five others were detained as they tried to hold a "parallel protest" in Godhra.
Last year, a court jailed 31 people for life for killing dozens of Muslims during the riots.
They were found guilty of murder, attempted murder, arson, rioting and criminal conspiracy after 33 people were burned alive in a building.