The comedy tour with serious aims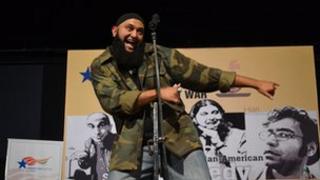 Diplomacy is often no laughing matter, but it is essential to this mission.
The US state department has sponsored the three American comedians with Indian roots to tour India to create better understanding between the two nations.
The Make Chai Not War shows, which cost the US government a total of $100,000, visited seven Indian cities - Mumbai, Bangalore, Chennai, Patna, Kolkata, Durgapur and Hyderabad.
"The point of our being here is simply to make people laugh... when people laugh together, they can hopefully love together," says Rajiv Satyal, the show's compere, who grew up in Ohio.
"We're here to showcase free speech, so even if we criticise our government, that's exactly what we're doing - we're showcasing free speech."
The name of the tour, Mr Satyal says, derives from the fact that chai (Indian tea) is a universal drink, enjoyed by Hindus and Muslims alike, "when we're all drinking chai, maybe we're not making war," he jokes.
Mr Satyal, and fellow comics, Hari Kondabolu and Azhar Usman, from New York and Chicago respectively, play heavily on growing up as Indians overseas as part of their stand up routines.
Nobel cause
Much of it is well-trodden territory for desi comics - jokes about being a minority, strict parents, relationships, as well as harder issues such as religion and terrorism, all feature.
International diplomacy through comedy is a noble cause, but don't take it too seriously says, Azhar Usman.
"Of course we can't solve the world's problems by making people laugh - anybody who thinks we can is probably part of the problem. The fact of the matter is we have very humble goals and missions."
Mr Usman's routine focuses on his experiences as a Muslim in the US - being stared at when boarding planes, or being called "Taliban" in the street.
A tall and stocky figure, with an unmissable beard, he has borne the brunt of many prejudices, but hopes highlighting ignorance will help break down some barriers.
"While comedy is not a traditional form of diplomacy, it is one way in which the state department works to find commonality among all cultures - even through laughter," Anne Grimes, the public affairs officer for the US Consulate, Mumbai, said in a statement.
The use of taxpayers money to fund such a tour might raise some eyebrows, but Mr Satyal believes it is provides value.
"You apply multiple tax to achieve a goal. Yes it did cost something to send us over here but it is far, far, far cheaper than a war, for example. We can achieve a lot through diplomatic means so why not use that as well."
'Universal'
But Kanwal Sibal, Indian foreign secretary from 2002 to 2003, says the merits of this form of diplomacy are limited.
He says it is hard to make an impact with this kind of "people to people diplomacy", which is aimed at getting a degree of goodwill at a popular level.
"It depends on what audience you're targeting, but many audiences in India are already exposed to so many facets of American life all the time through movies and literature, that this kind of live show, is not all that effective."
Even if someone appreciates another country's culture, it doesn't mean their attitudes will change their government or foreign policy, says Mr Sibal.
"I don't think it makes a whit of a difference in terms of overall relations or attitudes, because those are coloured and determined by far more serious things than humour."
Mr Usman and his fellow comics believe they are sending out ripples of goodwill however small, and hope to travel with the tour to other countries too, perhaps even Iran.
"The show and its themes are utterly universal, so we could take it anywhere.
The beautiful thing is, the language we're speaking is comedy, which is universal, and the laughter, that's universal too," he says.