Suicide of accused in India's Uttar Pradesh health scam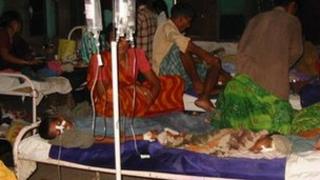 An accused suspect in a $2bn health scandal in India's Uttar Pradesh state has committed suicide, police say.
Officials said that Sunil Kumar Verma was suffering from depression after being named in the case and shot himself early on Monday.
The scam involved the siphoning of money from a federal-funded project to strengthen rural health facilities.
This is the fourth death in the case. Among the 36 people accused is a former state health minister.
Searches
Mr Verma was project manager in a company that was in charge of building primary and community health centres for the National Rural Health Mission (NHRM).
He became "depressed" after his home was searched by the Central Bureau of Investigation (CBI) earlier this month, Mr Verma's family told the media.
Two health officials named in the case were murdered in 2010 and 2011, while a third accused died in mysterious circumstances in prison.
Following the murders, the Allahabad High Court ordered the CBI to take over the investigation of the case.
The CBI has carried out searches at the houses of various officials, including bureaucrats and businessmen associated with the state family welfare department.
Former state health minister Babu Singh Kushwaha was named by the CBI in the case. He was sacked last year after the two murders.
The NHRM was launched by the central government in 2005 to provide basic affordable health care to the poorest in all states.
In Uttar Pradesh, where health care is in a dismal state, it was found that millions of dollars allocated for the project had gone missing over the years and no infrastructure had been built.
The scandal is a huge embarrassment for Chief Minister Mayawati ahead of crucial state elections next month.