Salman Rushdie: Doubts over Jaipur video address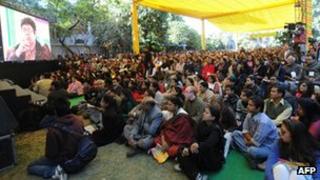 Plans for British author Salman Rushdie to address an Indian literature festival via video-link may be blocked by officials in the state of Rajasthan.
Mr Rushdie withdrew from the Jaipur festival on Friday, saying that sources had told him paid assassins were planning to kill him. He later said he had been lied to about the threat.
Organisers said he would make a video-address on Tuesday.
But sources told Indian media Rajasthan officials might deny permission.
Mr Rushdie sparked anger in the Muslim world with his book The Satanic Verses, which many see as blasphemous.
He lived in hiding for many years after Iran's Ayatollah Khomeini issued a fatwa calling for his execution.
Indian Islamist hardliners had demanded Mr Rushdie be denied a visa because of the book, which is banned in India.
'No objection'
Festival organiser Sanjoy Roy told Agence France-Presse that: "Salman Rushdie will address the Jaipur Literature Festival through video conference" at 15:45 local time (10:15 GMT) on Tuesday.
Mr Roy later told The Hindu that "no official has spoken to us so far raising objection".
However, India's NDTV channel quoted sources as saying the Rajasthan government might cite law and order concerns to stop the video-address.
A senior Rajasthan government was quoted by the Press Trust of India as saying no permission had been sought for the video-address and the government "would not allow this without prior permission".
Police in Jaipur are also investigating whether Mr Roy and the four authors broke the law by reading excerpts from the Satanic Verses at the Jaipur event.
Police say a number of complaints have been filed and some Muslim groups said they would protest over any video-link.
In one complaint, filed in Ajmer, Mr Rushdie and the four authors who read out excerpts are named, although the organisers are not.
Earlier, Mr Rushdie accused authorities in Rajasthan of giving "false intelligence information" of the threat to his life.
Mr Rushdie said he had been informed "by intelligence sources in Maharashtra and Rajasthan that paid assassins from the Mumbai underworld may be on their way to Jaipur to 'eliminate' me".
On Sunday, Mr Rushdie tweeted that he had investigated the information and believed "that I was indeed lied to".
"I am outraged and very angry," he said.
Rajasthan Chief Minister Ashok Gehlot told a newspaper that Mr Rushdie's allegation was "baseless".
"A confirmed information about a threat to Mr Rushdie's life was shared by the Intelligence Bureau with the organisers of the festival. Such inputs had started to come even before the beginning of the event," Mr Gehlot's government said in a statement.
Salman Rushdie was born in India but is a British citizen and has lived in the UK for most of his life. In recent years he has made many private visits to India and attended the Jaipur Literary Festival in 2007.