Hundreds of India separatists lay down arms in Assam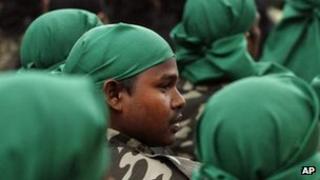 Hundreds of separatist rebels in India's north-east have laid down their arms in a ceremony in Assam to signal a ceasefire with the government.
Home Minister P Chidambaram attended the ceremony in the capital, Guwahati.
More than 20 groups have been fighting for autonomy in the region for three decades.
The Congress-led government has instigated a policy of peace talks and truces, although a number of rebel groups remain in conflict.
'Welcome home'
A total of 676 fighters from nine groups handed over weapons in a sports stadium in Guwahati on Tuesday.
Mr Chidambaram said: "Leave the past behind and look at the future positively. We assure that each one of you would be treated equally and be able to lead a life of dignity and honour.
"The government always welcomes rebels back home. All differences can be settled through talks and understanding."
Mr Chidambaram said comprehensive peace deals with a number of rebel groups were close.
The main group holding negotiations is the largest, the United Liberation Front of Assam (Ulfa), which signed a truce in September.
More than 10,000 people have been killed in three decades of insurgency in Assam.
The rebels argued that the government discriminated against the ethnic people of the region and exploited its mineral wealth.