Deadly attack mars Indian local election in Manipur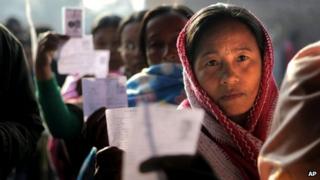 Suspected rebels in the north-eastern Indian state of Manipur have killed at least four people in an attack on a polling station, police say.
They say some of the dead are election officials.
Manipur is the first of five states to hold local elections - a test for India's governing Congress party.
The National Socialist Council of Nagaland, a separatist group which wants an independent homeland, is thought to be behind the shootings.
The gunmen sprayed the voting station with bullets in a village south of the state capital Imphal, police told AFP news agency.
The state of Manipur borders Burma and has many separatist groups who view India as a colonial power.
As well as today's elections in Manipur, voters in Uttar Pradesh, neighbouring Uttarakhand, Punjab and Goa will also vote in the next few weeks, with results due on 6 March.
Congress is expected to hold on to power in Manipur. Correspondents say the vote across diverse areas of India will provide an insight into the standing of the party and its leader Rahul Gandhi.
Prime Minister Manmohan Singh and his government have been on the defensive in recent months, as Congress struggles to get its anti-corruption bill through parliament.