India state elections held in Punjab and Uttarakhand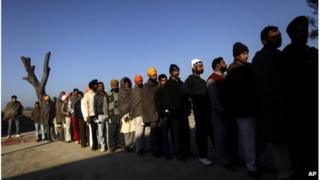 Voting has been held amid tight security in key Indian state elections in Punjab and Uttarakhand.
More than 20 million were eligible to vote, with some 1,800 candidates contesting 187 assembly seats.
Five states are holding local elections over the next month - a major test for India's governing Congress party.
The Election Commission in Delhi reported a hefty turnout in Punjab and Uttarakhand, with initial figures showing 77% and 70% respectively.
The first round of polls, in the north-eastern state of Manipur over the weekend, was marred by violence when suspected rebels attacked a polling station killing four people, including election officials.
'No development'
As well as elections in Manipur, Punjab and Uttarakhand, voters in Uttar Pradesh and Goa will also vote in the next few weeks, with results due on 6 March.
Monday's polls in the politically crucial northern state of Punjab were expected to see a keen contest between its ruling coalition - led by the regional Shiromani Akali Dal party - and Congress, which is the main opposition in the state. There are 117 seats in the state assembly.
"The people of Punjab want to oust the Akalis. There has been no development," Congress's chief ministerial candidate Amarinder Singh said.
But Chief Minister Parkash Singh Badal, of Akali Dal, said: "Whatever the Congress people may say, it doesn't matter. People know that this government has worked for their betterment and today a pro-incumbency wave is sweeping the state."
One Punjab voter, Naseeb Singh, who cast his ballot in Banur, told Reuters: "Congress should be able to form the next government as the people are fed up with the Akali-BJP government."
Hundreds of policemen and paramilitary soldiers were deployed in Punjab to ensure peaceful polling.
In mountainous Uttarakhand, the Hindu nationalist Bharatiya Janata Party (BJP) is fighting to gain a second term in power in face of opposition from Congress. The state has 70 assembly seats.
Chief Minister BC Khanduri replaced Ramesh Pokhriyal Nishank last year following corruption allegations.
Voting was thin in both states in the early hours, before picking up later in the day.
Correspondents say the polls are critical for the ruling Congress party, which is trying to combat high inflation and bolster an economy that is slowing down.
Prime Minister Manmohan Singh and his government have also been on the defensive in recent months on the issue of corruption, struggling to get a bill on a new ombudsman through parliament.
The state polls are a key litmus test ahead of national elections, which are due in 2014.
They could also throw light on the future of Rahul Gandhi, the latest leading light in the powerful political dynasty who has campaigned actively in the elections and is considered a possible future prime minister.