India activist Anna Hazare in Delhi for check-up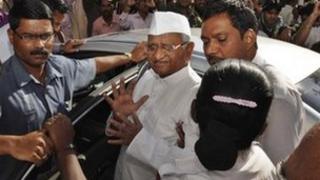 Leading Indian anti-corruption activist Anna Hazare has returned to the Indian capital, Delhi, to undergo a series of medical checks, doctors say.
Mr Hazare is taking a four-week break after being discharged from a hospital earlier this month.
He fell ill after starting a hunger strike in Mumbai in December and was admitted to hospital in Pune in Maharashtra state, where he lives.
Mr Hazare was protesting against the government's anti-corruption bill.
The bill, which envisages setting up an independent Lokpal [ombudsman] with the power to prosecute politicians and civil servants, was passed by parliament's lower house last month but stalled in the upper house.
The bill will now have to be taken up again in the next session of parliament.
High blood pressure
Reports say that the 74-year-old activist is suffering from a persistent cough and back pain.
"He has swelling in his feet, there's water retention in parts of his body and he also has high blood pressure," Manish Sisodia, an aide of Mr Hazare, told reporters.
In a letter to Prime Minister Manmohan Singh earlier this month, Mr Hazare said his movement for a strong anti-corruption ombudsman would continue.
His 12-day anti-corruption hunger strike in August in Delhi became the focus of a national campaign and put pressure on the government to act on the issue.
He started his three-day fast in Mumbai in December but called it off on the second day after his health deteriorated.