Top India state official held over real estate 'scam'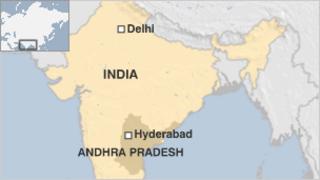 A senior official in India's southern state of Andhra Pradesh has been arrested in connection with an alleged real estate scandal.
Home Secretary BP Acharya was held by federal investigators for alleged irregularities in allotting land to a real estate developer to build villas.
Mr Acharya denies the charges and says he has done "nothing wrong".
Two businessmen and an aide to a top politician have been already arrested in connection with the case.
Lokpal bill
Mr Acharya was the managing director of the state-owned AP Industrial Infrastructure Corporation (APIIC) between 2005 and 2010 when the alleged irregularities took place, the Central Bureau of Investigation (CBI) said.
APIIC is a joint venture partner with Dubai-based real estate developer Emaar in a project to build villas on the outskirts of the state capital, Hyderabad,
Mr Acharya has been remanded in police custody for further questioning until Wednesday.
India has been debating a strong anti-corruption bill after a series of nationwide protests against rising corruption.
The bill, which envisages setting up an independent Lokpal [ombudsman] with the power to prosecute politicians and civil servants, was passed by parliament's lower house in December but stalled in the upper house.
The bill will now have to be taken up again in the next session of parliament.
A recent survey said corruption in India had cost billions of dollars and threatened to derail growth.