India court in key ruling on corruption prosecutions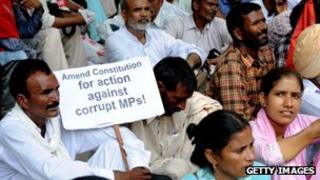 India's government must decide within a set time frame whether a public official can be prosecuted for corruption, the Supreme Court says.
If a decision is not made within four months, the sanction for prosecution will be deemed to have been granted.
A politician had sought the ruling in relation to prosecution of officials in an ongoing telecoms scandal.
The ruling is a setback for the government, which has been dogged by a series of corruption scandals.
Janata Party leader Subramanian Swamy had brought the case in relation to the prosecution of former telecoms minister A Raja.
Mr Raja is one of 14 people charged over the alleged mis-selling of telecoms licences which auditors say cost the country about $40bn (£24.5bn).
Lokpal bill
An earlier Delhi High Court ruling had refused to give direction to the prime minister on decisions on such prosecutions.
However, the Supreme Court ruled that filing a complaint under the Prevention of Corruption Act was a constitutional right that required a response within a set time frame.
Justices GS Singhvi and AK Ganguly ruled in favour of Mr Swamy's petition.
Mr Swamy, who had complained of an "inordinate delay" of more than 16 months in the decision to prosecute Mr Raja, said the ruling was a slap in the face for the government.
Balbir Punj, a senior leader of the main opposition Bharatiya Janata Party, said it welcomed the ruling.
"It is a judgment which will have far reaching consequences, in the citizens' fight against corruption and in empowering citizens," Mr Punj said.
The prime minister's office had argued it was advised that it had to wait for evidence to be collected before it could make a decision to prosecute.
PM Manmohan Singh used his new Twitter account to say the judges had "completely vindicated the Prime Minister whilst appreciating the onerous duties of his office".
India has been debating a strong anti-corruption bill after a series of nationwide protests against rising corruption.
The bill, which envisages setting up an independent Lokpal [ombudsman] with the power to prosecute politicians and civil servants, was passed by parliament's lower house in December but stalled in the upper house.
The bill will now have to be taken up again in the next session of parliament.
A recent survey said corruption in India had cost billions of dollars and threatened to derail growth.