India state elections: Uttar Pradesh campaign heats up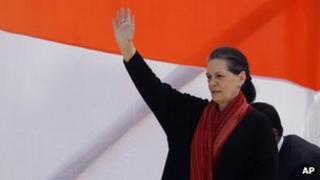 India's political heavyweights have come out in force in Uttar Pradesh as campaigning in the most vital of the current state elections heats up.
Congress party president Sonia Gandhi and the state's Chief Minister Mayawati have both been addressing rallies.
Uttar Pradesh is dominated by the low-caste vote, with Ms Mayawati, a Dalit icon, battling another strong regional force, the Samajwadi Party.
The vote is being held in seven phases, with the first round on 8 February.
Uttar Pradesh has a population of 200 million, similar to that of Brazil. More than 100 million people are eligible to vote in 403 assembly seats.
The BBC's Soutik Biswas says Uttar Pradesh has been India's chronic under-achiever; it has provided the country with eight prime ministers, but remains one of the poorest and most backward states.
Manipur, Punjab, Uttarakhand and Goa are also voting in this round of state elections, with results due on 6 March.
Focus on Rahul
Ms Mayawati, who heads the Bahujan Samaj Party, has had four terms as chief minister.
She stepped up her campaign by addressing a rally in Sitapur, about 90km (56 miles) from Lucknow, on Wednesday.
Ms Mayawati accused the central government of failing to fund development in Uttar Pradesh.
"Don't fall for the Congress promise of ushering in development if you vote for them," she said.
Her main challenger for power is likely to be Mulayam Singh Yadav, who heads the Samajwadi Party that mainly represents the interests of a caste grouping called Other Backward Classes.
Mr Yadav has already been campaigning heavily in the east of the state and is addressing rallies in Gorakhur and Maharajganj.
Congress will be hoping to boost its presence in the state after a difficult year as the national ruling party.
Our correspondent says it has been battered by an avalanche of corruption charges and scorned by critics for running a weak, reactive and indecisive coalition.
Some polls have suggested Congress could increase its vote and may hope to ally with the Samajwadi Party to oppose Ms Mayawati.
Sonia Gandhi addressed a rally in Gonda on Wednesday, criticising the lack of development in Uttar Pradesh and promising to clean up the state.
The main Congress focus, though, has been on her son, Rahul.
The fourth-generation Nehru-Gandhi dynast has been campaigning hard in Uttar Pradesh, as questions inevitably mount on whether he is the prime minister in waiting.
He is sharing a platform in Meerut with key Congress ally Ajit Singh, the head of the Rashtriya Lok Dal, with the pair seeking to promote the image of a strong coalition.
On Monday voting was held in Punjab and Uttarakhand, with a hefty turnout reported.
The first round of polls, in Manipur last weekend, was marred by violence when suspected rebels attacked a polling station killing four people.
The state elections will be a litmus test ahead of national elections, which are due in 2014.