What does future hold for Mahendra Singh Dhoni?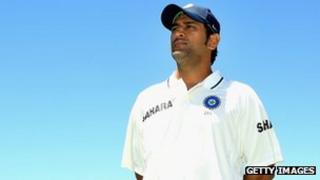 Sports writer Suresh Menon analyses recent comments by India cricket skipper Mahendra Singh Dhoni and asks, does he still want the role?
For someone who usually plays his cards close to his chest, Mahendra Singh Dhoni is suddenly keen on letting people get a glimpse of them.
Is he tired of captaincy? Has his enormous workload finally caught up with him? Does he really hope, as he says, to quit Tests before 2014 to focus on the 2015 World Cup?
In six years, Dhoni has played 67 Tests. Polly Umrigar played the most by an Indian in the pre-Gavaskar era - he reached 59 Tests but it took him 14 years. Dhoni has also played 196 ODIs and 28 Twenty20s.
Gambler
Before the Lord's Test last year, which saw the first of Dhoni's seven defeats in a row, he had won 15 of his 27 Tests as captain, and was yet to lose a series. The percentage of wins was better than that of Clive Lloyd, Richie Benaud, Ian Chappell, Imran Khan and Mark Taylor.
But already the statistics were becoming an albatross around Dhoni's neck. It seemed to become more important not to lose than to win. At Dominica in the West Indies, Dhoni emerged as the most defensive of captains, unwilling to take calculated risks.
India, then the No 1 Test team, had become the least attacking and the most likely to withdraw into their shell at the first suggestion of danger - a trend that continued through England and Australia.
It was a change for Dhoni, much of whose reputation had rested on the occasional illogical and unexpected move that turned out well. He was a gambler whose decisions were put down to intuition and feel, and when these succeeded he was feted. Remember that last over in the 2007 World Twenty20 final that India won?
While flamboyant gestures sometimes come off, there is no substitute for straightforward thinking. The great captains - Mike Brearley, Benaud, Ian Chappell - didn't make their reputations on the odd decision but on consistent ideas over a long period.
Dhoni won his first four Tests as captain and didn't lose until his 12th Test; after 22 Tests, he had lost only two away from home. Trying to maintain such a record brings pressure, pressure that grew with every defeat.
When England decided to split their captaincy three ways, it was assumed that Dhoni might also pull out of leading in the shorter formats. But a dramatic victory in the World Cup probably scuttled that plan.
Dr Dhoni - the honorific thanks to a university in Leicester - is 30. There is a good chunk of his career remaining, but its quality will depend on how well the mind and body are trained to cope.
He captains in three difference formats, maintains one of the coolest responses to victory and defeat by any captain and, despite the intense pressures, never complains.
If he says he wants a shift of focus, he at least deserves to be given a hearing.
Sports writer Suresh Menon has written books on Sachin Tendulkar and Bishan Bedi.