India police and army in Pune traffic clash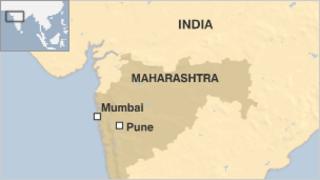 The Indian army and police force have become involved in a heated exchange over a traffic incident in the western city of Pune.
Pune police registered a complaint against dozens of military personnel for allegedly assaulting constables after two army officers were stopped for driving into a no-entry zone.
The army said a constable had manhandled one of the officers.
It said the two army officers involved had been confined to barracks.
It named the officers, from the College of Military Engineering, as Capt V Advait and Lt AB Pandit.
'Verbally abused'
An army statement said: "The College of Military Engineering has ordered a Court of Inquiry headed by a colonel. After investigation, appropriate action will be taken."
Describing Tuesday's incident as "unfortunate", the army said the officers were on a motorbike and had crossed a bridge prohibited to two-wheel vehicles.
A woman constable stopped them and asked them to pay a fine. The army said a male constable then began "abusing Capt Advait, roughing and manhandling him by stating that since he was once roughed up for travelling without a helmet in an army area, he would do the same".
The police corroborated the initial traffic violation.
However, deputy commissioner of police Dnyneshwar Fadtare told the IANS agency the army officers had "verbally abused" police constables.
The police said the officers then returned with dozens of friends to assault the policemen.
The army's Southern Command told the Press Trust of India that "no case of indiscipline will be tolerated and strict action will be taken against those involved".