India court questions Delhi role in army chief row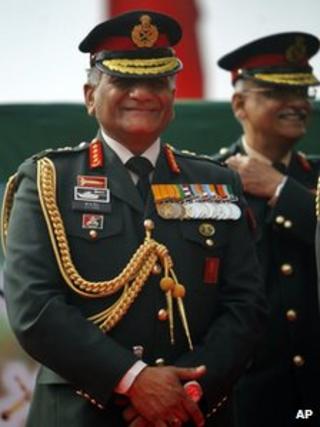 India's Supreme Court has questioned the government's decisions in its row with the head of the army over his retirement age.
General VK Singh is seeking a court ruling to establish his date of birth as 10 May 1951.
The government has issued an order setting his birthday a year earlier, meaning he should step down this year.
The court ordered the government to explain its stance and fixed a hearing for 10 February.
Gen Singh - a highly decorated soldier who became army chief in March 2010 - argues that the issue relates to his "integrity and honour".
It is the first time a serving chief of the Indian armed forces has petitioned the Supreme Court against the government.
If he wins he will be able to retire a year later, in 2013.
The government issued an order in December rejecting Gen Singh's complaint about the decision to fix his birthday as 10 May 1950.
That decision was made in July last year because the army appeared to have both dates in its records.
'Natural justice'
The Supreme Court on Friday said December's order appeared to be impaired and asked the government whether it wished to reconsider it.
The judges based their ruling on the role of the attorney general, questioning whether it was right that the official who fixed the general's age last July should also be involved in the rejection of the general's complaint.
"We are not concerned as much with the decision but we are concerned with the decision-making process," the judges said.
"The material on record will not withstand the test of the principle of natural justice."
Analysts say this appears to be an initial victory for the general.
He has said he went to court "after exhausting all statutory options within the defence ministry".
The NDTV channel quoted sources as saying that Gen Singh had met Finance Minister Pranab Mukherjee on Thursday evening amid suggestions of a compromise, although no breakthrough was reported.
The sources said one compromise could see the government accepting the general was not guilty of misrepresenting his age, while Gen Singh would withdraw his case.
Opposition parties have criticised the government for its handling of the dispute.