India PM Manmohan Singh: 'Long way to go' on corruption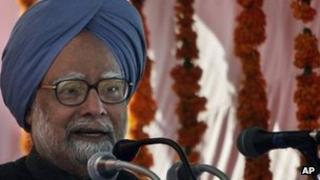 Indian PM Manmohan Singh says his government has moved "substantially forward" in tackling corruption but still has a "long way" to go.
In a speech in Delhi, Mr Singh said he was confident a strong anti-corruption bill would still pass in parliament, despite failing in the upper house.
The bill envisages setting up an independent ombudsman, or Lokpal.
Mr Singh also confirmed that economic growth this financial year would slow to between 7% and 7.5%.
'Unfortunate'
Speaking to chief secretaries from state governments at a conference in the Indian capital, Mr Singh pointed to a number of initiatives that had ensured progress in the "delivery of our public services system".
"But we still have a long way to go in our efforts for ensuring transparency, accountability and probity in public life," he said.
Mr Singh said it was "unfortunate" that the anti-corruption bill had failed in the upper house in December.
But, he said the government hoped it "would soon be able to enact a strong Lokpal law".
The government has been dogged by a series of corruption scandals and a recent survey said corruption had cost billions of dollars and threatened to derail growth.
The Lokpal bill's failure in the upper house means it will have to be taken up again in the next session of parliament.
But key anti-corruption campaigner Anna Hazare has derided the bill, calling it weak and demanding it be withdrawn.
On growth, Mr Singh said the reduced projection of 7-7.5% was due to the continuing uncertainty in the global economy and the need for monetary tightening to curb inflation.
"Overall inflation has eased. But monetary tightening together with a difficult global economic environment, particularly the lingering eurozone crisis, has impacted the rate of growth adversely," he said.