Rahul Gandhi 'not obsessed' with becoming India PM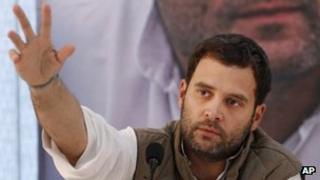 Congress party MP Rahul Gandhi says he is "not obsessed" with becoming the prime minister of India.
Instead, he said he was "obsessed with Uttar Pradesh [state]", where he has been campaigning relentlessly for the forthcoming assembly polls.
Mr Gandhi said he was committed to transforming the state, which is one of India's most backward.
Many see the fourth-generation scion of the famous Nehru-Gandhi dynasty as the PM-in-waiting.
On Sunday his sister Priyanka Gandhi, another star Congress party campaigner in Uttar Pradesh, told reporters that Rahul Gandhi was not focused on becoming PM.
He was working to "bring in positive change in the state and not for his reputation", she said.
'Monumental crime'
Mr Gandhi told a press conference in Varanasi on Monday: "All the political leaders in India, all the top ones, have an obsession with prime ministership. This is not Rahul Gandhi's obsession. I have another obsession.
"I want to correct the way we have been working in this state. I believe it is a monumental crime not to hear the voice of the people.
"I don't have any major strengths. All I have is that some people in this country believe in me. Even if 1% of the people in Uttar Pradesh believe in us, that will be good for me," he said.
Mr Gandhi is an MP from Uttar Pradesh and although he is not contesting the assembly elections, which begin on Wednesday, he has been campaigning extensively in the politically crucial state, which sends the most members to parliament.
The state was once a Congress stronghold, but the party has lost ground over the years to regional parties and Mr Gandhi is trying to revive the party's fortunes there.
Mr Gandhi has been joined by hugely popular sister Priyanka and his mother, Congress party president Sonia Gandhi.
On Sunday, Priyanka Gandhi told reporters in Rae Bareilly that Mr Gandhi was not unduly concerned about becoming the party president or prime minister.
"We are bothered only about the work to be done," she said.
Ms Gandhi also praised PM Manmohan Singh, whose government has been coming under increasing pressure over corruption scandals and a slowing economy.
"I think we have an extremely good prime minister. We are fortunate to have a prime minister who is so honest and who works well and I think no question [about replacing him] arises at this moment."
Uttar Pradesh politics has been dominated in recent years by Mayawati, who heads the Bahujan Samaj Party and has had four terms as chief minister.
Her main challenger for state power is likely to be Mulayam Singh Yadav, who heads the Samajwadi Party that mainly represents the interests of a caste grouping called Other Backward Classes.
Congress may hope to ally with the Samajwadi Party to oppose Ms Mayawati.