India battered toddler: DNA tests on 'mother'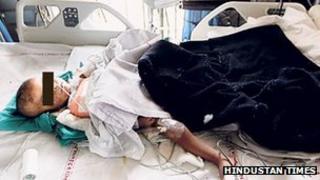 A woman suspected of being the mother of a battered toddler whose plight has gripped India has been brought to Delhi for DNA tests and questioning.
The 22-year-old, called Munni, was brought from Rajasthan.
Police say the woman has claimed to be the mother of the toddler, who has been named as Baby Falak.
The girl was admitted to hospital two weeks ago with serious injuries, including human bite marks all over her, and remains in critical condition.
Neurosurgeon Dr Deepak Agarwal said Baby Falak had been put back on a ventilator after having shown little sign of improvement.
Police earlier arrested two men and two women in connection with the case.
Main suspect
Police say they suspect the baby was handed on a number of times before a teenage girl brought the child to a hospital in the capital.
Munni has reportedly told police her husband had forced her into prostitution, so she had run away from him.
The main suspect in the case, a man called Rajkumar, who is not Munni's husband, is still at large. He is believed to have handed the baby to the teenage girl.
Police said they were trying to verify Munni's claims and were continuing to search for the main suspect.
Baby Falak remains in critical condition, with infections in her chest. Last week, she was taken off the ventilator but has now been put back on it.
The toddler is being constantly monitored by a team of doctors who say they have never seen such cruelty inflicted on a baby.
The toddler has undergone two surgeries so far.
She was brought to hospital on 18 January with broken arms and a partially smashed head
The teenage girl said she was the mother and that the toddler had fallen from her bed.
Police say their interrogation revealed that the teenager had been abandoned by her father and abused by a couple who pressed her into prostitution.
The teenager's father is among those arrested.