Cricket Australia pulls Hindi adverts amid tobacco link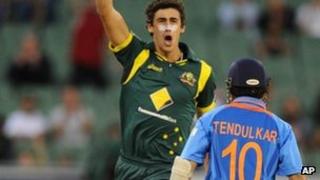 Cricket Australia has withdrawn Hindi advertisements displayed during recent games with India after warnings they could be promoting tobacco.
Australia has prohibited tobacco advertising since 1992 and Cricket Australia could face a A$66,000 ($70,700) fine for each breach.
Cricket Australia said India had told it the boundary ads were for a brand of mouth-freshener.
But a number of complainants suggested they were for chewing tobacco.
The adverts were displayed during seven games to target the millions of viewers back in India.
'Uneasy'
A Cricket Australia spokesman said: "We asked [the Indian government's] advice because we are not familiar with the Hindi language.
"They came back and said it's an Indian mouthwash - or at least they said it's not a tobacco product. We don't have one million per cent certainty about all of the detail.
"It appears that there is a tobacco company with the same or similar brand name to the product that is being advertised. We have just become uneasy about it and said, let's withdraw this. It's better to be safe than sorry."
Health Minister Tanya Plibersek said the government had "received a number of complaints alleging that advertisements for tobacco products have been displayed at cricket grounds".
"The government is taking the allegations very seriously and has written to Cricket Australia seeking detailed information about the advertising," she said.
"I think taking [the advertising] down is the right thing to do."
The government and an anti-smoking lobby made Cricket Australia chief executive James Sutherland aware of the problem on Monday.