Indian guard dies after Bangladesh border attack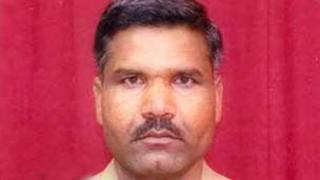 An Indian border guard died on Tuesday from injuries sustained in an attack by alleged cattle smugglers, security forces say.
Constable Sartaj Singh and his team were patrolling the India-Bangladesh border in West Bengal state when they were attacked.
Another guard was injured although not seriously and is said to be recovering.
Cattle smuggling is rampant along the long and porous border - especially the stretch in West Bengal.
"More than 100 cattle smugglers, including Bangladeshi smugglers, attacked the BSF men a few days back while they were performing duty on the border," Ravi Ponoth, inspector general of the Indian Border Security Force (BSF) told the BBC.
There have been 52 incidents of assault on BSF personnel in south Bengal in the past year, the BSF says.
However, human rights organisations have accused the BSF of regular abuses.
Last week Human Rights Watch said Indian border guards should be prosecuted if found guilty of torture and killings.
This was after a recent video showed eight BSF men torturing an alleged Bangladeshi cattle smuggler. All those involved have been suspended and an enquiry is under way.