Yuvraj Singh thanks well-wishers for cancer support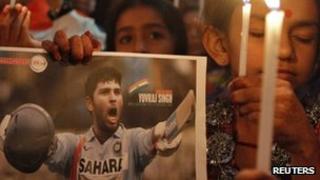 India cricketer Yuvraj Singh has thanked well-wishers for their show of support and vowed to come back "stronger than ever" after he was diagnosed with cancer.
Yuvraj is being treated in the US for a rare form of cancer, called seminoma, which doctors say is curable.
On the Twitter micro-blogging site, he tweeted he was "overwhelmed with the love and support people have given me".
He wrote: "Tough times don't last, tough men do!"
'Mentally tough'
Yuvraj posted on Twitter: "I will fight and come back as a stronger man because I have the prayers of my nation! Thank you to the media for their support and respecting my privacy."
Yuvraj said the sheer volume of tweets of support meant he was unable to reply to them all.
He also sought to defend his physiotherapist, Jatin Chaudhary, amid claims the cricketer had been too late in seeking treatment.
"He is at no fault he only tried to help it was my decision to go with alternative medicine," Yuvraj tweeted.
He also thanked the Board of Control for Cricket in India for its support.
Yuvraj said he was reading the autobiography of Lance Armstrong, who recovered from testicular cancer, and that he would like to meet the cyclist.
Yuvraj's oncologist, Dr Nitesh Rohtagi, said the cricketer was "very tough mentally and was doing better than most in the same situation".
Yuvraj's health first deteriorated during the World Cup last year, in which he was the man of the tournament and helped India win the trophy for the first time since 1983.
Against Ireland, Yuvraj became the first player to take five wickets and score 50 in a World Cup match.