Recovering Yuvraj Singh tweets photo amid chemotherapy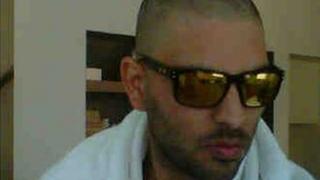 India cricketer Yuvraj Singh, who is undergoing chemotherapy for cancer, has posted a shaven-headed photo on his Twitter account.
"Finally the hair has gone!" he posted on the micro-blogging site.
The 30-year-old cricketer is being treated in the US for a rare form of cancer, called seminoma, which doctors say is curable.
Twitter has been full of support for Yuvraj, with celebrities and others expressing sympathy and admiration.
'Jai Hind!'
A few days ago, he thanked well-wishers. He tweeted that he was "overwhelmed with the love and support people have given me".
He wrote: "Tough times don't last, tough men do!"
Yuvraj also tweeted that he would "fight and come back as a stronger man because I have the prayers of my nation".
"And of course everyday I look forward to come back and wear my India jersey, my India cap and represent my country again. Jai Hind [Long live India]," he wrote.
Yuvraj said he was reading the autobiography of Lance Armstrong, who recovered from testicular cancer, and that he would like to meet the cyclist.
Yuvraj's oncologist, Dr Nitesh Rohtagi, said the cricketer was "very tough mentally and was doing better than most in the same situation".
Yuvraj's health first deteriorated during the World Cup last year, in which he was the man of the tournament and helped India win the trophy for the first time since 1983.
Against Ireland, Yuvraj became the first player to take five wickets and score 50 in a World Cup match.