India army chief drops court case on retirement age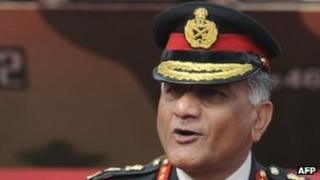 India's Supreme Court has said that the head of the army has dropped his case against the government over his retirement age.
Gen VK Singh had gone to the Supreme Court seeking a ruling to establish his date of birth as 10 May 1951.
The court said it had found no error or prejudice in the government and army's setting of the date as a year earlier, on 10 May 1950.
The date of birth will determine if the general retires this year or next.
Earlier on Friday, the Supreme Court judges had indicated they were not in favour of entertaining Gen Singh's petition and gave him the option to withdraw it.
Order withdrawn
The court said the recognition of the date as 10 May 1950 "does not suffer from perversity and is not grossly erroneous".
It said the general should "abide by his commitment and honour his letters of 2008 and 2009 accepting the date of birth as 10 May 1950".
The court said the date had been fixed when the general joined the services and it questioned why he had not sought to correct it.
The government welcomed the outcome.
Defence ministry spokesperson Sitanshu Kar said: "We are happy that the issue has been finally resolved and controversy put to rest."
Earlier, the general had been boosted by the government's decision to withdraw the order it made in December rejecting the general's appeal against another government ruling - made last July - that his date of birth should be set at 10 May 1950.
The withdrawal followed strong criticism in the Supreme Court that the government had undermined the legal process with its December order.
The court had questioned whether the attorney-general should have been involved in both decisions.
"We are not concerned as much with the decision but we are concerned with the decision-making process," the judges had said.
"The material on record will not withstand the test of the principle of natural justice."
Attorney-general G E Vahanvati informed the court on Friday of the withdrawal.
However, he insisted the original decision on the general's age, made in July, stood.
The row arose after it was revealed that army records held both dates.
Gen Singh - a highly decorated soldier who became army chief in March 2010 - argues the issue relates to his "integrity and honour".
It is the first time a serving chief of the Indian armed forces has petitioned the Supreme Court against the government.