India court upholds 2003 Mumbai bombs death penalty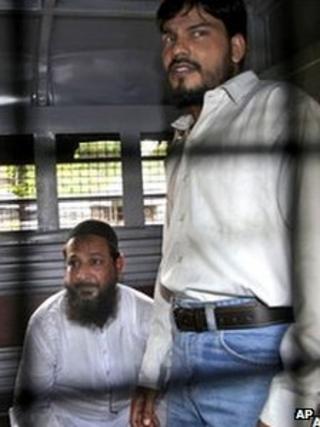 A court in India has upheld the death sentences on three people convicted of bombings that killed more than 50 people in Mumbai in 2003.
Haneef Sayyed, his wife Fahmeeda and Ashrat Ansari were convicted in 2009 of murder and conspiracy.
The blasts at the Gateway of India landmark and a jewellery market caused carnage and shocked the nation.
They were said to be in retaliation for the deaths of Muslims during riots in Gujarat state the year before.
Sayyed, 46, and his 43-year-old wife, along with Ansari, 32, were convicted under the Prevention of Terrorism Act.
It was the first time a husband and wife had been convicted of terrorist offences in India.
The three bombers were found to have links to the Pakistan-based Islamic militant group, Lashkar-e-Taiba, which investigators believe was involved in the November 2008 attacks on Mumbai.
The three denied being members.
The death penalty is rarely carried out in India and is often delayed indefinitely or commuted by the president.
The double car bombing in August 2003 left devastation at the Gateway of India and the Zaveri Bazaar market near the Mumba Devi temple in central Mumbai.
About 180 people were injured.