Morality sessions for legislators in Indian state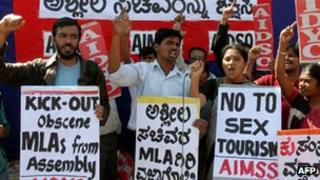 The governing Bharatiya Janata Party in India's Karnataka state is to hold discussions on morality with its legislators after a string of scandals.
Three ministers resigned last week over allegations of watching pornography on a mobile phone during a debate.
A series of corruption scandals led to the resignation last year of Chief Minister BS Yeddyurappa.
The morality session will be held in Karnataka's capital Bangalore on February 24-25.
'Low morale'
State BJP chief KS Eswarappa announced the session a day after a court ordered a police investigation into whether the three legislators had violated the law.
Video shot by TV journalists in the assembly's media gallery appeared to show Laxman Savadi watching a pornographic clip on a phone and sharing it with his colleague, CC Patil. The two deny the accusation.
Another minister, Krishna Palemar, the phone's alleged owner, also resigned.
"We have decided to have the "chintan-manthan baitak" [brain-storming session] to discuss important issues," said Mr Eswarappa after a meeting of party leaders led by Chief Minister Sadananda Gowda.
Party leaders will discuss morality and discipline at the meeting, Mr Eswarappa said.
Chief Minister Gowda has admitted that he has been hurt by the latest scandal and wants legislators to focus on image building and personality development.
"The morale is low. The incident has ashamed the party," said another minister.
The party, however, has decided to back the three legislators despite growing demand by the opposition to have them disqualified from the legislature.
"No action will be taken against the three MLAs. We will decide on action after the house committee submits its report. I am confident all three will prove their innocence," said Mr Eswarappa.
This is not the first sex scandal affecting the party, first elected to power in Karnataka in 2008. One minister, Hartal Halappa, had to to quit last year after he was charged with raping a friend's wife.