India state elections: Uttar Pradesh holds third phase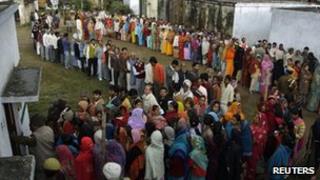 Officials have said turnout in the third phase of crucial elections in the Indian state of Uttar Pradesh was 57%.
About 17 million people were eligible to vote on Wednesday in the seven-phase elections.
Among the 10 districts that voted was Amethi, constituency of Rahul Gandhi, the man leading the Congress party's push in the state.
These elections are expected to be a litmus test ahead of national elections, which are due in 2014.
Uttar Pradesh is ruled by Chief Minister Mayawati, a low-caste Dalit icon from the Bahujan Samaj Party (BSP).
If it were a separate country, Uttar Pradesh would be the fifth-largest in the world by population, with more than 200 million people.
Polling began at 07:00 (01:30 GMT) on Wednesday and picked up pace after a sluggish start.
The average turnout in the 2007 state election was 46%.
No major incidents were reported.
Litmus Test
Both Rahul Gandhi and his sister Priyanka of the Nehru-Gandhi dynasty have campaigned hard in the state in an effort to revive the Congress party's presence.
Some polls have suggested that Congress could increase its vote and may hope to ally with the other strong regional force, the Samajwadi Party to oppose Ms Mayawati.
The state, one of India's least-developed, sends the largest number of MPs to parliament and has provided the country with eight prime ministers since independence in 1947.
Manipur, Punjab, Uttarakhand and Goa are also voting in this round of state elections. Results for all the states will be announced on March 6.