Contempt notice for India's Gujarat state over 2002 riots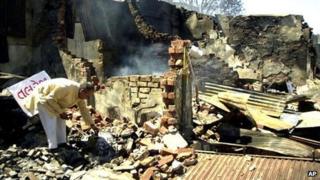 The High Court of Gujarat has issued a contempt notice to the Indian state's government for not paying compensation to victims of the deadly 2002 riots.
The court has given the government 15 days' notice to explain why 56 owners of shops destroyed in the riots had still not received any money.
The court ordered the compensation to be paid last year.
More than 1,000 people, mostly Muslims, died in violence that erupted after 60 Hindus were killed in a train fire.
In ordering the compensation to be paid, the court was responding to a petition filed by the 56 shop owners.
Fierce debate
Gujarat Chief Minister Narendra Modi has been dogged by allegations of turning a blind eye, or even backing the riots. He has always denied any wrongdoing but has not apologised for the riots.
Last year, a senior police officer made a sworn statement to the Supreme Court that Mr Modi deliberately allowed the riots because Hindus should be allowed to vent their anger.
The 2002 riots were one of India's worst outbreaks of religious violence.
The cause of the train fire is a matter of fierce debate, although Muslims were blamed at the time.
Separately, a trial court in Gujarat has said it will give a copy of the report by the Supreme Court-appointed Special Investigation Team (SIT) that is probing the riots, to the widow of a Congress MP who was murdered in the violence.
The SIT has not yet submitted all the documents and they are expected to do so within a month, after which the copy will be handed over to Zakia Jafri.
Ehsan Jafri, a prominent Muslim politician, was killed along with dozens of others in the Gulbarg Society residential complex in Ahmedabad at the height of the violence in 2002.