Low voter turnout at Mumbai civic polls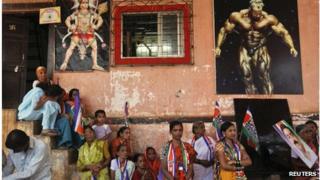 Polling for control of India's richest municipal body in the western city of Mumbai has ended with reports of a low voter turnout.
Officials said that by mid-afternoon Indian time, only 35% of more than 10 million eligible voters had done so.
The municipality, with an annual budget of over $4bn, has been ruled by the Hindu nationalist BJP-Shiv Sena alliance since 1996.
Mumbai is India's financial and entertainment capital.
But over half of its population lives in slums and the city's infrastructure is creaky.
As many as 2,233 candidates contested for 227 seats in the municipality in Thursday's polls.
The main opposition Congress party - Nationalist Congress Party alliance is hoping to dislodge the ruling alliance, but the presence of the regional Maharashtra Navnirman Sena (MNS) promises a keen three-way contest.
The MNS has been campaigning for greater rights for the ethnic Marathi people of Maharashtra and has carried out violent protests against migrants from other Indian states.
The party won 13 seats in the last state assembly elections.
Bollywood celebrities have urged citizens to vote for the "right candidates" in Thursday's polls.
"To all voting in elections, throw out the rascals who failed and vote for honest candidates with a possibility of winning," tweeted actor Kabir Bedi.
Actor Arbaaz Khan said: "When more and more people vote, the chances of a good candidate getting elected also increase."
Lack of infrastructure and corruption have featured as the two major issues in the campaign.
Polling was also held in nine other municipalities in the state of Maharashtra on Thursday.
All the results will be declared on Friday.