Indian buffaloes hit the catwalk in Haryana state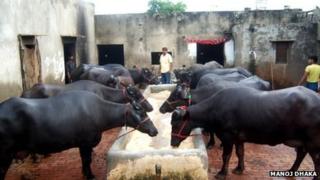 About 30 buffaloes are to walk a specially-designed ramp - similar to those used by catwalk models - in India's Haryana state, officials say.
The aim is to showcase the rarity of their breed and their high milk yield.
Murrah buffaloes are highly coveted and their owners take a lot of pride in them, officials say.
They say special arrangements are being made for the event as the animals can be highly strung, crowd shy and prone to erratic behaviour.
The event will be held at the Arjun Stadium in Jind town on 22 February.
"We will put barricades along both sides of the ramp and the owners will be asked to accompany their buffaloes on the ramp," director general of Haryana Animal Husbandry Department KS Dangi said.
He said 70 buffaloes have been asked to come a day before the event for rehearsals.
"During the rehearsals, we will identify the shy animals and drop them from the ramp walk to avoid any risk on the day of the event. We will select 30 buffaloes to participate in the catwalk," he said.
Mr Dangi said flowers will be showered on the buffaloes when they walk on the ramp as a way of "honouring them".
Officials say about 25,000 people are expected to attend the event which is due to be inaugurated by India's Agriculture Minister Sharad Pawar.
The Murrah breed of water buffalo is much in demand for its high milk yield and normally costs between 100,000 rupees ($2,020; £1,289) and 250,000 rupees ($5,050; £3,222).
But the animal is believed to be immensely shy and normally villagers keep them away from music and crowds.