India protests to Italy over shooting of fishermen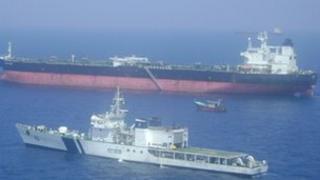 India has protested to Italy after an Italian cargo ship fired at an Indian trawler, killing two fishermen.
Indian Defence Minister AK Antony described the killings as "very serious" and an "unfortunate incident".
He said the law would "take its own course" against the offenders, who have been detained by the authorities.
The Italian ambassador in Delhi was summoned by the foreign ministry over the shooting, which took place off the coast of Kochi in southern India.
Reports say the Italians mistook the Indian fishing boat for a pirate vessel on Wednesday evening.
Indian officials say they are surprised at the mistake and that the fishermen did nothing to threaten the Italian ship.
An inquiry has been ordered into the incident, officials said.
'Repeated warnings'
Italy said the crew on their vessel had followed international protocols.
The Italian ship, identified as the MV Enrica Lexie, fired at the fishermen in waters off India's southern state of Kerala, the Indian navy said in a statement.
Officials said the vessel was bound from Singapore to Egypt, with a crew of 19 Indians.
The Italians say the crew members fired in self-defence - after initially firing warning shots - because they feared their vessel was about to be attacked.
"After repeated warnings and after ascertaining from binoculars that the pirates were armed warning shots were fired and the pirates withdrew,'' the Italian embassy in Delhi said in a statement.
"We are working in very close co-operation with Indian authorities, said Italian Ambassador in India Giacomo Sanfelice di Monteforte, quoted by the Press Trust of India [PTI].
"It is in any case a very sad incident. What I want to underline is that the Italian ship moved voluntarily into the Kochi port."
"The Italian navy followed the international protocol as it was approached by a vessel which did not stop when flash lights were sent," he said.
Following the shootout, the Indian coast guard sent two boats and an aircraft to intercept the ship.
The Kerala state government has authorised a payment of 500,000 rupees ($10,125; £6,450) each to the dead fishermen's families.
Chief Minister Oommen Chandy said the government would also explore the legal possibilities of making the Italian ship owners pay compensation to the family.
Piracy has emerged as a major threat to merchant ships in the Indian Ocean and Arabian Sea, with Somali pirates hijacking ships and their crew for ransom.
Pirate attacks have come down recently partly because more armed guards are now deployed on board ships.