Rahul Gandhi accused of 'poll code violation'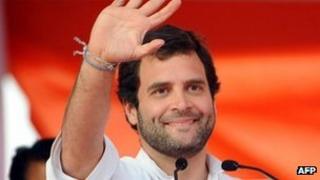 Congress party MP Rahul Gandhi has been accused of violating election rules while campaigning for the crucial assembly polls in India's Uttar Pradesh state.
A case has been registered against him alleging that his road show in Kanpur city breached the time limit and the route map set by the authorities.
The Congress party denies the charges.
Many see Rahul Gandhi, the fourth-generation scion of the famous Nehru-Gandhi dynasty, as the PM-in-waiting.
Mr Gandhi is an MP from Uttar Pradesh and although he is not contesting the assembly elections, which begin on Wednesday, he has been campaigning extensively in the politically crucial state, which sends the most members to parliament.
The state was once a Congress stronghold, but the party has lost ground over the years to regional parties and Mr Gandhi is trying to revive the party's fortunes there.
He has been joined by his hugely popular sister Priyanka and his mother, Congress party president Sonia Gandhi.
Violations
"The district administration had allocated time till noon and fixed a 20km (12.5 mile) route for Rahul Gandhi's road show but he violated it and stretched it beyond the permitted time," Press Trust of India quoted district magistrate Hari Om as saying.
"He also did not stick to the prescribed route for the event... There could have been a security breach or a clash," he said.
Authorities said Mr Gandhi had sought permission to cover 38km, but he was allowed a shorter route because of the Hindu religious festival of Shivratri on Monday.
The Congress party denied there was any violation of the election code of conduct and accused the district administration of trying to curtail Mr Gandhi's programme on orders from the state government.
The ongoing elections in the state are being seen as a dress rehearsal for the 2014 parliamentary elections in India.
Correspondents say if the Congress does well in the state polls, it will energise the rank and file of the party which has been bogged down with criticism of bad governance and corruption scandals involving its government in Delhi.
Uttar Pradesh elections are part of the assembly polls being held in five states. Vote counting is scheduled on 6 March.