India's Kingfisher cancels more flights amid cash-crisis talks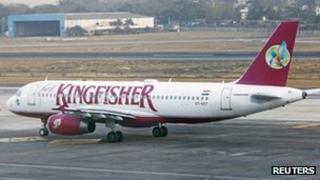 India's loss-making airline Kingfisher has cancelled 20 more flights on Wednesday as efforts continue to find a solution to its financial woes.
Civil Aviation Minister Ajit Singh said the airline could not expect a government bailout like that extended to the state-owned Air India.
He spoke after reports that the State Bank of India had agreed to extend a lifeline to the cash-strapped airline.
But the airline says it is still in talks with banks to secure funding.
Kingfisher, majority owned by Vijay Mallya, is highly indebted and owes taxes of about 390m rupees ($8m; £5m).
Account frozen
"The government is not going to bail it out, but we hope Kingfisher can mobilise its resources somehow because if they don't then there will be more problems for the passengers," Mr Singh said.
He had already said on Monday that the airline could not expect a government bailout.
"We have made it very clear, and I'm sure Mr Mallya knows that Air India is a government concern. Whatever help we give them, we cannot do it to any private industry. If the banks can loan them money, then it's all good."
The firm recently had its bank account frozen for non-payment of taxes.
Kingfisher has cancelled at least 160 flights in recent days.
Meanwhile, Air India has refused to carry passengers from Kingfisher's cancelled flights on credit, Reuters news agency says.
The airline has been given until Wednesday to come up with a revised, clear schedule for its operations.
The airline, which flies on international as well as domestic routes, is currently operating 28 of its 64 planes, Mr Singh said.
It flies to 46 destinations in India and eight overseas, including London, Hong Kong, Singapore and Dubai.
Billionaire owner Vijay Mallya has said he is determined to keep the airline flying.
The flight disruptions are the latest problem to hit Kingfisher Airlines.
Last week it reported that its losses widened 75% in the October to December quarter, raising fresh concerns about its future.
It made a loss of 4.44bn rupees ($90m; £57m) during the period, compared with 2.54bn rupees a year earlier.