Deadly Kashmir avalanches kill 11 Indian soldiers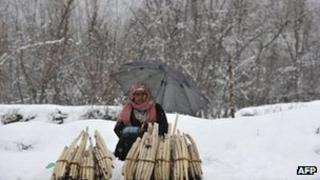 At least 11 Indian soldiers have died and several others were trapped in two snow avalanches that hit defence installations in Indian-administered Kashmir, officials say.
Eight deaths took place in Gurez, a mountainous town bordering Pakistan. Many others were trapped there.
Three Territorial Army soldiers were killed in another avalanche in Sonmarg, 90km (56 miles) from Srinagar city.
Kashmir has been hit by extreme snowfall in recent months.
The army has sought help from the air force but rescue operations are being impeded by heavy snowfall in the region, officials said.
"Helicopters could not land in Gurez and Sonmarg but we're trying other means too," a top army official said.
The army's high altitude warfare school has deployed a special rescue team to retrieve the trapped men, but a top army official said many of those trapped in the snow were feared dead.
The disaster management centre has flagged up further warnings of avalanches in more areas.
In January, eight soldiers were killed after a massive avalanche hit a morning patrol in Kupwara, 140km (87 miles) from Srinagar.
A large number of Indian soldiers are deployed along the 740km (460 mile) Line of Control which divides the disputed territory of Kashmir between India and Pakistan.