Rights campaigners query Indian bank robbers' deaths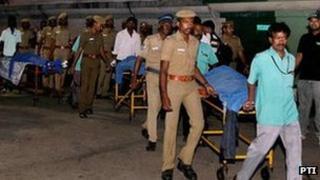 Human rights activists in India have questioned the circumstances in which five men were killed by police in Chennai (Madras) on Thursday.
Police say the men had carried out two audacious bank robberies in the city.
They say that arms and ammunition were recovered from the scene of a shoot-out in the city's Velachery locality.
But rights activists allege the men were killed in a staged gun-battle, commonly known as a "fake encounter". They are demanding a judicial inquiry.
The dead include four from the state of Bihar and one from West Bengal.
Reports say that about $66,000 (£42,000) was looted over the last month by armed men from the branches of the Bank of Baroda and the Indian Overseas Bank.
About 40 special teams were formed to catch the criminals.
Police circulated video images of a suspect allegedly surveying one of the banks robbed on Wednesday.
They say these generated calls from the public, and allowed them to carry out an operation against the robbers.
Police said that when they went to the area to check the background of the men, they were fired upon.
But the the police version of events is being hotly disputed.
Human rights advocates Sudha Ramalingam and Sankarasubbu are questioning the logic of going to a heavily populated area in large numbers when police were unsure of the men's identity.
A BBC correspondent who has been to Velachery says there are conflicting accounts in the area as to how the men died, with some residents saying they never heard any gunfire.
Others say they came out of their homes to investigate the noise, but were asked by police to go inside and shut the doors.