India Supreme Court condemns Baba Ramdev crackdown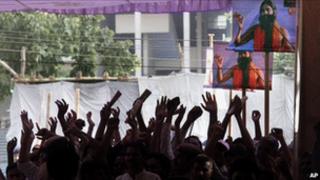 India's Supreme Court has ordered the prosecution of policemen who were involved in a midnight crackdown on an anti-corruption protest led by yoga guru Baba Ramdev in June last year.
The court said the operation "struck at the foundation of democracy".
Around 30 people were injured as police fired tear gas to disperse thousands of his supporters.
A 51-year-old woman who was seriously injured in the incident died in hospital in September.
The crackdown was widely criticised. Prime Minister Manmohan Singh said it was "unfortunate" but that there had been no alternative.
Judges BS Chauhan and Swatanter Kumar said the police operation at Delhi's Ramlila grounds was an "assault on the very basic democratic values enshrined in our constitution" and could have been avoided.
'Unjustified and brutal'
They said the police had indulged in "unjustified and brutal acts" towards sleeping supporters of Baba Ramdev by baton-charging them and using tear gas to chase them out of the protest venue.
"It is evident that it was not a case of emergency... It is a glaring example of trust deficit between the people governing and the people being governed," the judges said.
The court ordered the criminal prosecution of policemen and supporters of Baba Ramdev who had "behaved violently" during the incident. It also blamed the yoga guru for the violence.
The court also ordered compensation of 500,000 rupees ($10,200) to be paid to the family of Raj Bala, the woman who died in the incident.
The government had justified the crackdown, saying that the yoga guru had reneged on his promises during negotiations.
Authorities said that Baba Ramdev had gathered 50,000 people at a ground in Delhi after seeking permission for a yoga camp to be attended by 5,000 people.
The yoga guru has millions of supporters and his daily TV programme is watched by millions across India.