Bollywood's Amitabh Bachchan back home after surgery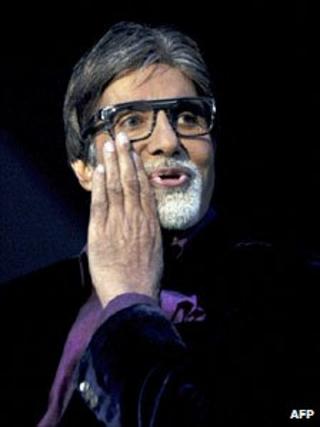 Bollywood legend Amitabh Bachchan, who had successful abdominal surgery recently, has been discharged from hospital and is recovering at home.
"Am back home in familiar surroundings, gently taking in all that now engulfs me," the actor wrote on his blog.
The 69-year-old actor, who has a history of abdominal ailments, was operated on in the western city of Mumbai on 11 February.
He has acted in more than 180 films and remains India's most popular actor.
"Home. A joy to be back in familiar surroundings... thank you all for your blessings and prayers... I made it again," Bachchan posted on the micro-blogging site Twitter on Friday morning.
'Discomfort'
On his blog, he wrote: "The surgery discomfort and soreness persists, but will take a while to finally erase itself from the pain glands.
"God's grace and prayers of the extended family have put me back on track again."
The actor complained that journalists had "blocked his car not allowing it to move, insensitive to need of ailing occupant to get securely home".
After the surgery at Seven Hills Hospital nearly two weeks ago, his family said it had gone well and "everything was normal".
But after he complained of acute abdominal pain, his stay at the hospital was extended amid reports of another operation.
Bachchan had surgery for an intestinal condition at the same hospital in 2005. Three years later, he was admitted to a hospital with abdominal pains.
The actor suffered a near fatal injury during the shooting of an action scene on the set of a film in 1982 and was critically ill for several months.
Last year Bachchan returned as the celebrity host of Kaun Banega Crorepati, the Indian version of Who Wants to be a Millionaire - one of the most watched shows on Indian television.
He is also to make his Hollywood debut in a new film adaptation of The Great Gatsby, starring Leonardo DiCaprio, due to be released late this year.