London 2012: India hockey Olympic berth applauded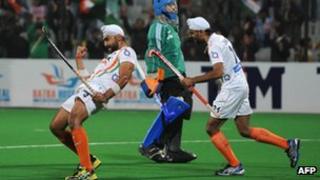 The Indian media have applauded the performance of the country's field hockey team, which gained a berth in the London Olympics with an 8-1 victory over France on Sunday.
Penalty-corner specialist Sandeep Singh scored five of the eight goals.
The India team, eight-time Olympic gold medallists, failed to clinch a place at the Beijing Games four years ago.
Over the years, the game has lost its popularity in India which is primarily obsessed with cricket.
Birendra Lakra, SV Sunil and VR Raghunath also scored for India while Simon Martin-Brisac got France's only goal in Sunday's game in the final of a men's qualifying tournament.
"What was also heartening was they won by playing an attacking brand of hockey that had traditionally been India's forte, but was lost somewhere in the last decade during a musical chair of foreign coaches," The Indian Express newspaper wrote.
"Indian teams of the past would have gone into a shell after the initial impasse or crumbled. On Sunday, there was no giving up."
The Times of India newspaper said Sunday's win could "mark a turnaround for India's national game".
"The stage could not have been set better for India, who came to the tournament as favourites and dominated it completely," the newspaper said.
London, Here We Come! headlined The Asian Age.
'Methodical approach'
The Hindu said India's "Olympic dream" had been "rekindled" after the victory.
The newspaper attributed the win to a "methodical approach and the rock solid self-belief" of the team, being coached by Australian-born Michael Nobbs.
The win had "healed the wounds" of the team after India failed to qualify for the Olympics in 2004 - the first time in 80 years.
"It is nice that we have made it to London. If not, hockey would have died in London," Mohammed Shahid, an India veteran, told The Hindu.
The Hindustan Times described the victory as a "new beginning".
But the paper added that the emphatic win in the qualifiers "don't ensure a cakewalk in the London Games".
"In the recent past, India haven't won against top teams, including Australia... With over four months to go for the mega event, coach Michael Nobbs will have some work to do."