Ex-minister Laloo Prasad Yadav charged in 'fodder scam'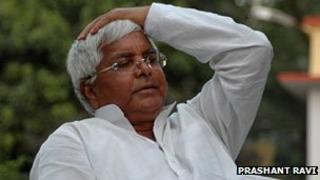 A court in India has framed charges against former minister Laloo Prasad Yadav in a long-running corruption case.
The charges relate to a case known as the "fodder scam", which first came to light in 1996.
Mr Yadav was charged with embezzling state funds intended to be spent on cattle fodder while he was chief minister of Bihar.
Mr Yadav, who was also the federal railways minister, denies the charge.
A judge of a special court on Thursday framed charges against Mr Yadav and two other senior politicians in a case relating to fraudulent withdrawal of funds by officials from treasuries in the districts of Banka and Bhagalpur between 1994 and 1996.
Mr Yadav maintains that he has been falsely implicated.
In 2006, a court had acquitted Mr Yadav and his wife Rabri Devi - also a former chief minister of Bihar - in a case of amassing wealth disproportionate to his income.
Laloo Yadav is one of India's most colourful politicians. He leads a regional party in Bihar.
He resigned as chief minister of Bihar after the allegations of corruption arose. His wife Rabri Devi was installed in his place.
Mr Yadav's Rashtriya Janata Dal party lost power in state elections in 2005.