India unemployment rate 'falling'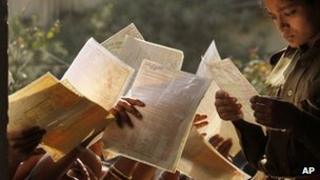 India's unemployment rate has declined in spite of the global slowdown, the government says.
Labour and Employment Minister Mallikarjun Kharge said the unemployment rate had declined to 6.6% in 2009-10 from 8.3% in 2004-05.
He attributed the drop to "success of public employment policies".
Various surveys have pegged India's unemployment rate between 2.8 to more than 10%. Analysts say the actual figure is much higher.
They say most of the surveys do not reveal the rising "underemployment" - those who have given up looking for work or are part-timers seeking full-time posts - in the country.
Officials say there were 40 million people without jobs at the end of 2010.
"Despite global slowdown, India not only maintained its employment standards but also succeeded in reducing unemployment from 8.3% in 2004-05 to 6.6% in 2009-10," Press Trust of India news agency reported Mr Kharge as saying.
The decline, he said, was made possible due to the "success of public employment policies and various stimulus measures initiated in response to the crisis and the recovery".
Economic analysts say that unemployment figures in India do not reveal the true extent of joblessness in the country.
They say that the joblessness rates often show a decline because the surveys are conducted when the respondents are working for short periods in the country's jobs for work programme.
Experts say that many of those who have found employment are in the unorganised casual sector, which means they no recourse to any kind of social security.